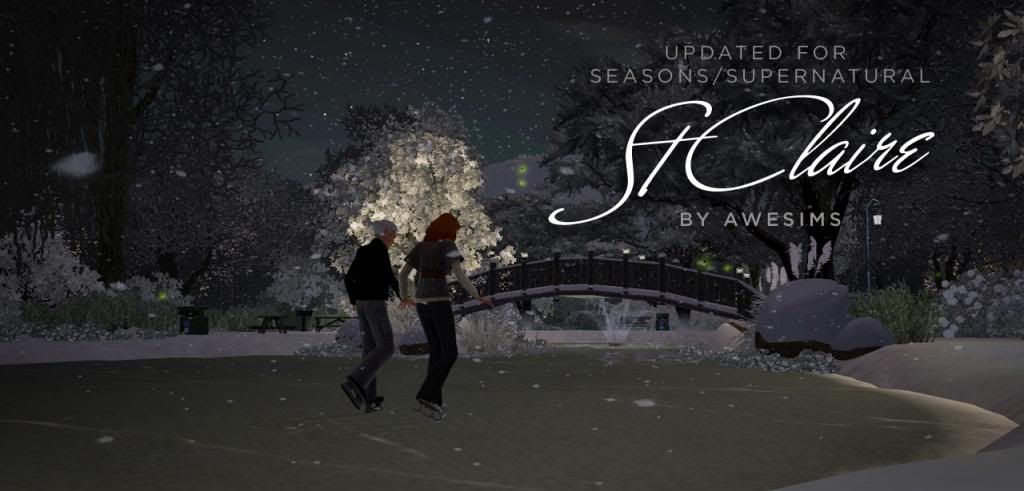 It's been a long time coming (blame ea for that!) and I do hope I haven't raised expectations too high, but anyway, here is the updated St Claire!
If you've never downloaded St Claire before and don't know what it looks like, check out the Original St Claire download page, there are lots of pictures and information about the town on that page.
What's changed?
Routing issues caused by incorrectly placed markers fixed,
A new downtown supernatural hangout,
An arboretum in Bradford – surrounded by parks & gardens,
Several new homes (plus some existing homes now furnished),
Witches stadiums,
The shopping centre in Cherry Lane is now one lot to encourage more Sims to gather on the lot,
A couple of alchemy consignment stores,
Seasonal festival lots in Oak Park and Bradford,
New Sims in the save game bringing the total families up to 17.
I have also updated the weather .ini files which you can see here at my tumblr.
Installation
First and foremost, your game will need to be patched to the most up to date version.

If you have the old version of St Claire installed, you will need to back up your saves, sims and make any copies of lots you want in the new version, uninstall the old St Claire world, delete the file from your downloads and delete the world cache folder. Then you are ready to install the updated world.
To install the world, simply extract the file from the rar, double click the Sims3Pack file to install it via the launcher. Install any cc you might need following the links above. To install the save game, all you have to do is extract the folder from the rar, and copy that folder to you My Documents > Electronic Arts > The Sims 3 > Saves folder. Then load up the game and save and play!
If you have the problem where the launcher installs the world, but it doesn't show up in game (this happened to me before I was fully patched) there is a workaround here: http://modthesims.info/showthread.php?t=494212
I do, however, recommend you patch your game to the most recent version to avoid any issues.
If you enjoy what I create
If you enjoy the creations I make, whether it be objects, furniture, patterns or worlds, please consider donating to Awesims. All donations are greatly appreciated!
Download the St Claire World File (Seasons/Supernatural version). | downloaded 60781 times
Download the St Claire Save Game (Seasons/Supernatural). | downloaded 28002 times