Click image above for additional images
Some Sims like the hustle & bustle of the big city, while others prefer a much slower pace, in a place where they can relax and enjoy natures bounty. Pounawea is just such a place.
The township, situated on an estuary, lies where the Owaka and Catlin rivers meet. A wonderful place to fish, hike and relax, Pounawea is a popular summer holiday spot, with its spectacular waterfalls, gorgeous views of the mountains, and friendly locals. In recent times, the idyllic town was chosen as the site for a premier golf course, and with it came tourists and their money, a very luxurious golf club and brand new visitor centre. Fortunately (or not, depending on your point of view) the town has retained all its sleepy character, which you'll notice as you wander down the main stret, with its small shops long overdue for a makeover.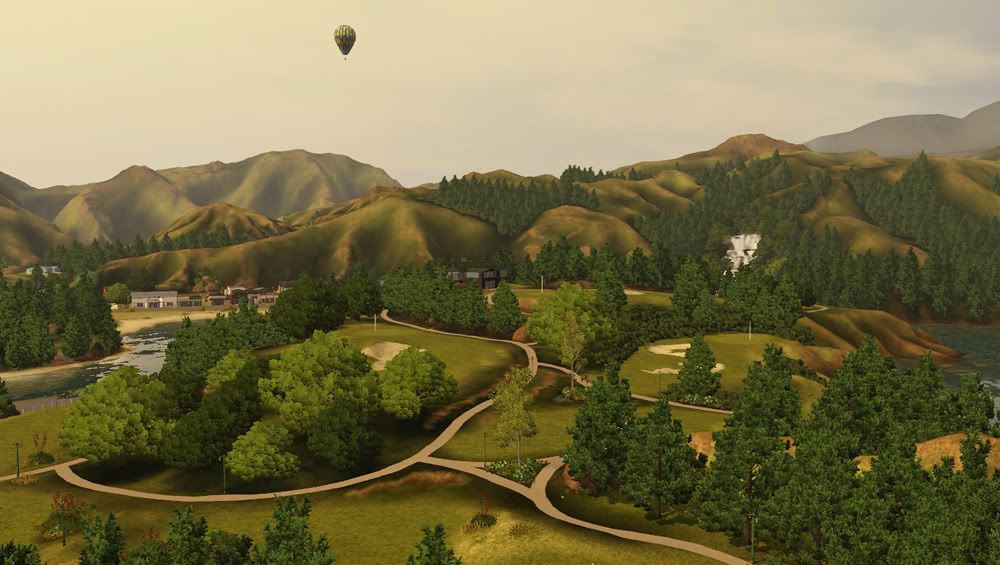 Despite its small size, you'll find plenty to do in Pounawea. Performers can be seen regularly at the swanky club in the new Golf Club, with smaller acts performing in the basement club & Community Centres. Of course the locals prefer to have a pint at the local watering hole, where budding musicians are often found practicing their new songs. There's a lot this town doesn't have, but what it does have is just wonderful.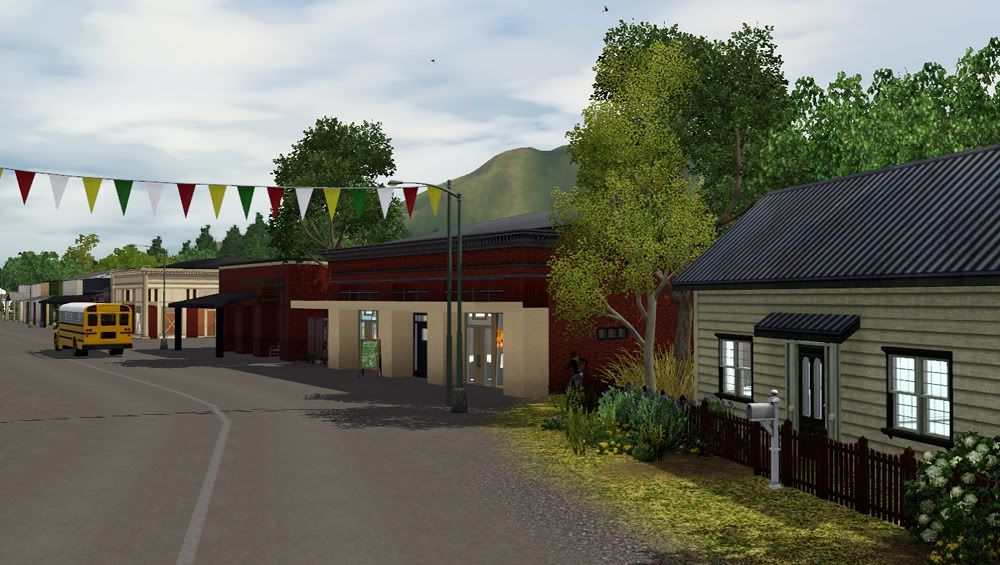 Specs:
Map size: Large map, however town occupies only a small area on map.
World filesize: ~80mb
Expansions required: All EP's, SP's optional.
Residential Lots: 30 total; 20 built & fully furnished; 10 empty lots.
Commercial lots: Grocery; Fish & Chip Shop (Diner); Community Hall (Hangout); Gym; City Hall/Police/Mil; Bookstore; Offices; Spa; Restaurant; Consignment Store; Nectary Library; Playground; Medical Centre; Graveyard; Pub; Fire; Fishing Spot; Private Venue (Golf Club); Sports Club(Golf Club); Visitor Centre (Hangout); School; Salon; Beach; Art Gallery. I think that's everything!
CC Required: Jynx Rabbithole Doors & Rugs; Awesims Cornice & Terrain Paints (merged into 1 package). No other CC required, no store content.

This world is designed to be relaxed, "holiday-ish" coastal Otago town, and as such doesn't have some of the rabbitholes or community lots. There is no stadium, no movie theatre, only 2 bar types (sports & dive bar), no junkyard (but there are junkyard spawners behind the nectary & some junk piles there), and no movie set. There are, however, a few empty lots should you wish to place your own. There is not a great deal of room for expansion in this world, but if your sim wants the simple life, this is the world for you!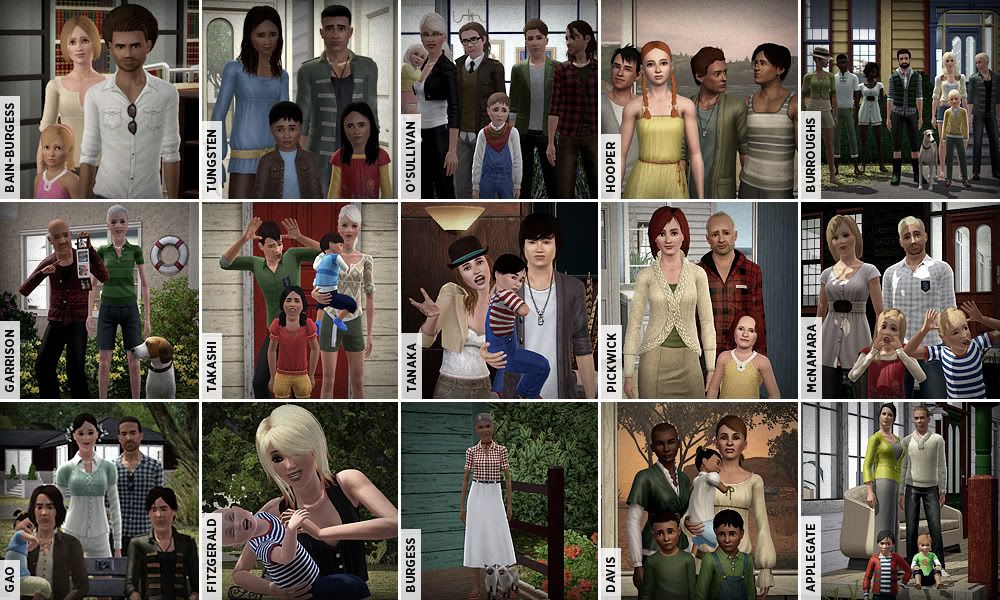 Save Game:
I was originally going to pre-populate the world, but have since decided to provide a save file instead, for people who wish to populate the world with their own sims. In the save game the world is populated with 15 different families, which gives the town a starting population of 57 sims. There is a diverse mix of sims, with different ages, genders, sexualities and ethnicities.

Installation
To install the world, simply extract the file from the rar, double click the Sims3Pack file to install it via the launcher. Install any cc you might need following the links above. To install the save game, all you have to do is extract the folder from the rar, and copy that folder to you My Documents > Electronic Arts > The Sims 3 > Saves folder. Then load up the game and save and play!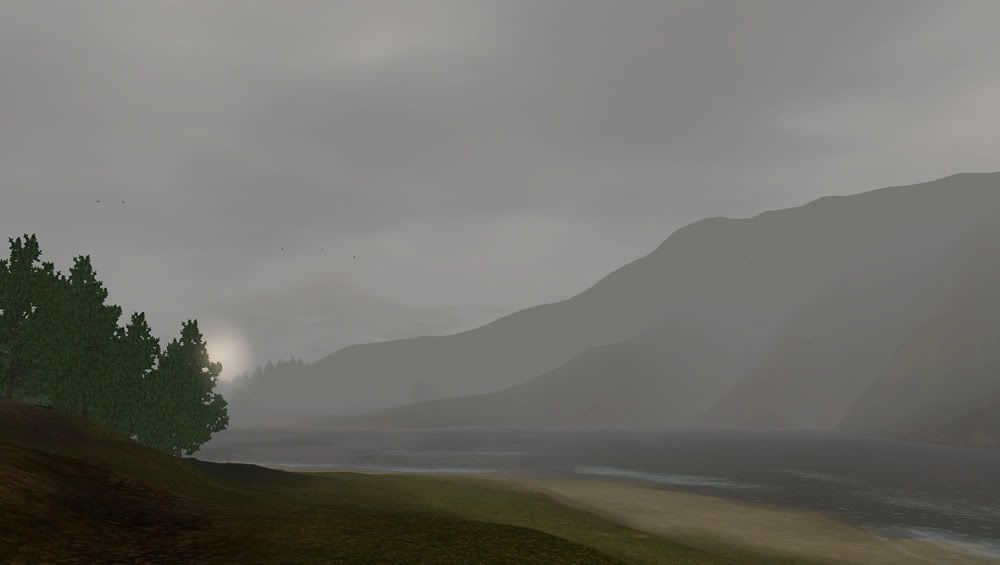 Known Issues & Notes
You may notice that when you first load the world, all fog emitters emit just fog – this is a known bug that can't be changed. It is fixed by saving, quitting to the main menu then reloading the save. You'll only have to do this once.


If you notice that the sky doesn't have any clouds in it when you enter the world, save your game, exit to the main menu, then re-enter your save. The clouds etc should display as normal. This is a bug that happens with all worlds in some peoples games, but exiting to the menu and re-entering the save fixes it for that play session. You're missing out if your sky is blank!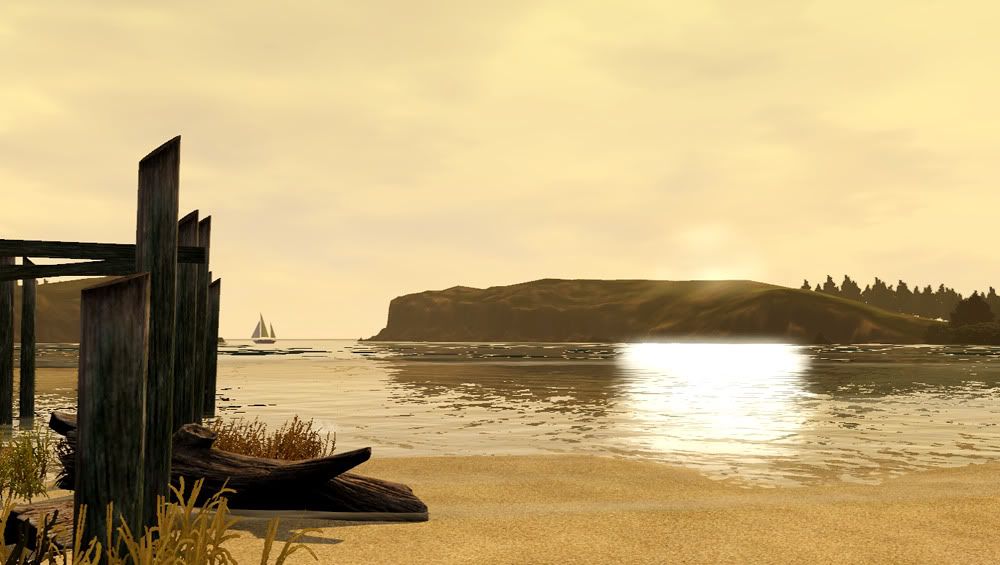 If you encounter lag
Is it right when you load the world for the first time? If so, that is most likely the world spawning register clerks & townies to fill the jobs needed in the town. If it is later in game play, then there could be a sim or animal stuck somewhere. I suggest you install Twallans Overwatch mod, to check if there are any stuck sims/animals in the town. It happens sometimes, but is easy to fix by resetting any stuck sims that are found with Overwatch. The mod also cleans up the hood every night of cars that have built up and are abandoned by townies, plus a host of other great features. I highly recommend getting it if you don't have it already. Download Overwatch
I leave you with some pictures of Pounawea, and hope that you enjoy playing it as much as I enjoyed making it :)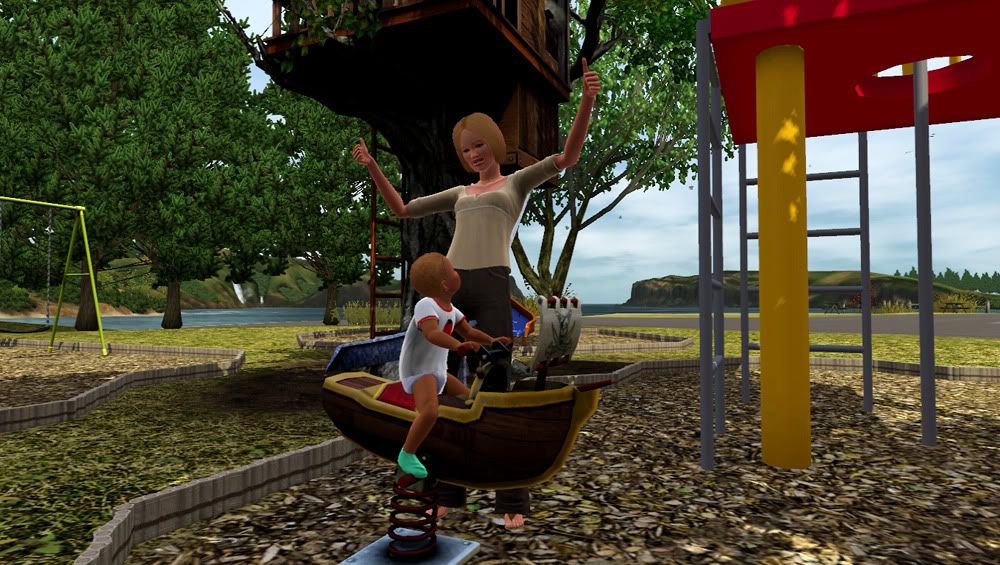 Click image above for additional images
If you enjoy what I create
If you enjoy the creations I make, whether it be objects, furniture, patterns or worlds, please consider donating to Awesims by clicking the donate button to the right. All donations are greatly appreciated!
Download the Pounawea World File (Sims3Pack). | downloaded 31578 times. Don't forget to download the CC file.
Download the Pounawea Save Game. | downloaded 14469 times